With only one exception things "Reely" started to improve as the first waves of migrating trophy and schoolie striped bass and blues started to join our resident population from the bays to the ocean as vast schools of bunker are now in place to set the stage for our trophy striper run!
The week started poorly for first timer Delaware resident Doug Murray looking to engage some blues and bass on the bays shallow flats. Seemingly finding the fish with a severe case of lock jaw. We methodically worked from one location to the next looking for signs of life only to get a scant few swirls on the artificial presentation.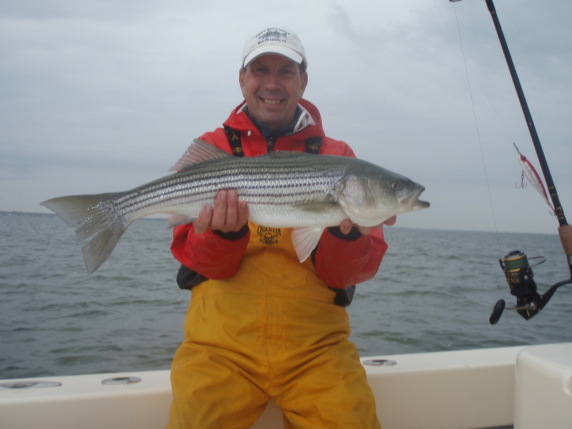 The next day new comer John Macavoy joined by friend Steve found a slow start with striped bass on the bays shallows so it was up to the inlet to play with some more cooperative blackfish. After getting their fill of the blackfish it was back to the shallows to find schools of striped bass swirling under birds. The guys managed some nice topwater surface action with stripers on light spinning tackle before heading to the barn.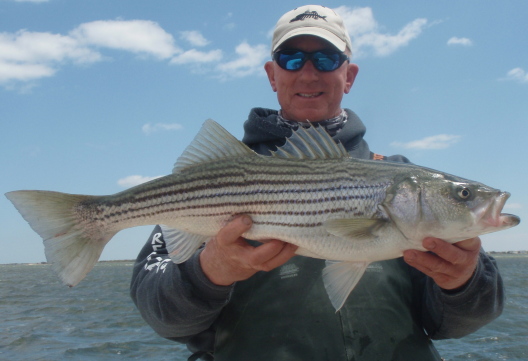 Small craft warning lead to cancellations for both a.m. and p.m. trips on Friday. I found myself unable to stay shore bound for long and could not resist the urge to see what action could be had in the stiff 20-30 NW winds. Although the bays water was blown into a brownish turbidity the bass did not seem to mind at all as I managed to play catch and release with several stripers in just over an hour of fishing.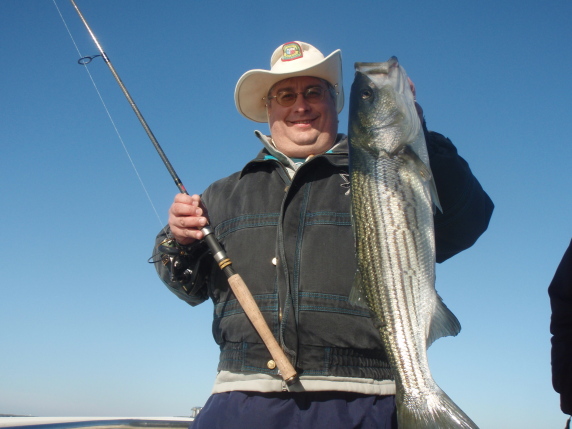 Up Next was Chris and Jay Simmons joined by Chris's sons K.C. and Jack scoring a mix of stripers, blues and blackfish . Chris started the day scoring a nice keeper striper on th flats right out of the gate from there the action cooled down so up to the inlet we went again to find the blackfish more cooperative . As the guys continued to be entertained by the blackfish bite I noticed multiple huge school of bunker just outside the inlet , changing gears we started to snag and drop to see if there was "anyone home". Within minutes Chris came tight on a bass but ended just as quickly as the hook point doubled back into the bait preventing a solid hook up. Finishing up in the backbays the guys managed a few more blues on the flats with multiple fish tailgating our hooked fish right to the boat in the bays crystal clear waters before ending the day!
With huge amounts of baitfish in the way of vast bunker schools , it looks very likely that things are ready to explode wide open this week!
Wishing everyone fair winds and calm seas,
Capt. Steve Purul