Home
Monday, 28 July 2008
Barnegat Fishing Charters | Inshore | Offshore | Bay Fishing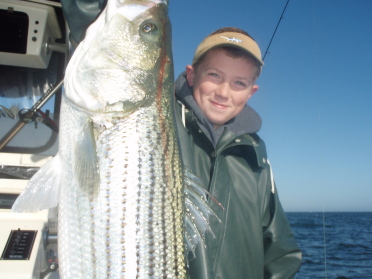 From the calm yet robust and fertile waters of Barnegat Bay
to the wide open expanses of the Atlantic's deep blue and everything in between . Beginner to expert of parties to 6 or less , Reel Fantasea's Barnegat Fishing Charters strives for industry excellence to provide you not only an enjoyable but memorable Charter Fishing Experience !
Our Bays fertile waters provide a haven for all sea life from clams , mussels, crabs, shrimp, sea worms and vast amounts of various species of baitfish ,all providing the " all you can eat buffet " necessary not only to attract gamefish to our area but to retain them for extended periods thru out our season and provide some of the best action found anywhere ! Our bay plays host to the prized striped bass , as well as trophy sea trout aka weakfish, slammer bluefish, large and small, and summer flounder / fluke just to name a few.
Moving off the coast of Barnegat, the opportunities are endless
from Trophy Striped Bass Fishing [20-50lb class fish] to fishing our wrecks both natural and artificial , providing " drop and reel " type fishing ! Seabass, Blackfish, Porgies, Fluke, Ling, and a cast of others answering the call on a regular basis making for an interesting and exciting days fishing !
Reel Fantasea also fishes our offshore lumps
and ridges for Tuna , Atlantic bonitas, False Albacore, Mahi Mahi, Bluefish with a showing from various other species such as Spanish and King Makeral.

Latest Reel Fantasea Fishing Reports and News
Tuesday, 09 August 2011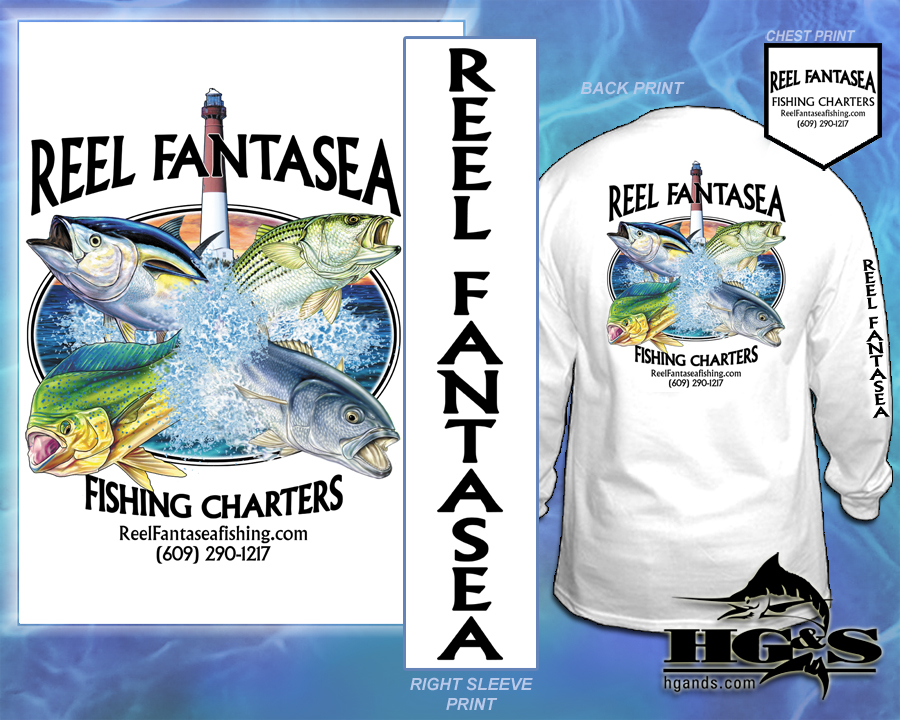 This week continued to offer up good to excellent light tackle action for a nice variety of species keeping things interesting and rewarding for both young and old. We have been mixing it up with a variety of species using different techinques,locations and presentations to keep the rods bending and anglers on their toes with blues, schoolies, trigger fish, blow fish, king fish, fluke ....... .

August is a great month to intoduce kids to fishing, as the bays variety and consistant action not only keeps their attention but gives them a fun start to fishing .

I have 2 remaing dates in August [ 21,26] for those who would like to join in on the fun. Remember that you don't require a license or registry to fish with us, it's all covered including cleaning your catch for the ride home! I a lso have some prime Fall fishing dates available for those looking to experience our Fantastic Fall Fishing! Lastly I have put together some new Reel Fantasea Fishing Charters T-shirts [long and short sleeve] and sweat shirt hoodies in different colors and sizes for those who would like to show your fishing passion.
Wednesday, 08 May 2013
With only one exception last week's steady North East winds didn't keep anglers from catching tons of bluefish and a few nice keeper stripers aboard the Reel Fantasea. With "Small Craft Advisory" well in place for most, if not all of the week we found ourselves keeping to the back bay. Luckily Barnegat Bay's safe confines kept us well protected and catching fish!


Thursday's open boat found regulars Jay Simmons and Karl Steffan joined by Ken Purzycki starting off the week battling moderate NE 10-15mph winds and loads of cooperative bluefish all trip long.

Next up was the Fred Gockely party to battle 20-30+mph winds and tons of bluefish. Fred got a bait passed all the voracious bluefish and scored a nice keeper striper before trips end.


Friday evening open boat had regular Jay Simmons back again to be wind tested with Bill Cohen and new comer's Steve and Ryan Gross. The trip started off slowly and didn't get much better from there as we only landed a few bluefish and one out of two keeper stripers.


Regular Joe Franke and Clan closed out the week with more fantastic bluefish action and a keeper striper in cold, cloudy, and blustery conditions. The guys endured punishing weather and were rewarded with hot action throughout the morning.

I have Thursday 6am - 11am available for private or open boat and 2 spots for this Thursday and Friday evening open boat trip 3-8pm. All bait and tackle and fish cleaning is included - $100.00pp.